i can't believe my baby turns 3 in august :(
disney world expert – caylin is now in that category. this was her 3rd trip before age 3–what a life. she has talked about it constantly since she got back. about the kids she met, how the water slide scared her (she went down by herself and flew off the end), about how she saw anna and elsa 4 times at hollywood studios. obsessed. she and my mom had a blast.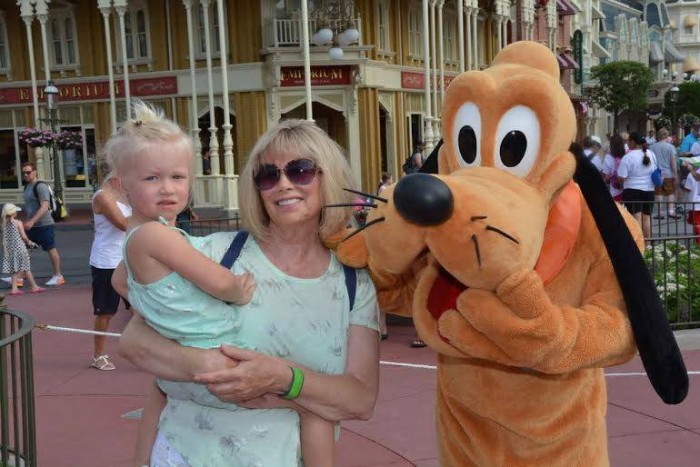 summer is here, in full swing. which means the pool is in the driveway, and will probably stay there until october again. fine by me, because caylin loves it. still. buckets and cups and toys and bubbles, snacks and lawn chairs, lunch in the sun. love it. she could sit out there for hours.

she LOVES mud puddles. specifically the one at the end of our driveway. unfortunately for our lawn, that piece of the yard will probably never see grass again or ever be dry, but, it keeps her entertained. fill it up with water, mush it up a bit, and jump in it. fill it up, jump. over and over again. "jump in puddle, mommy? COME ON!" it's so cute, and gross.

peppa pig, peter rabbit, bubble guppies – speaking of muddy puddles. she's in love with peppa pig now and peter rabbit. oh, and daniel tiger. but she calls him "neighbor tiger", hahaha. still loves bubble guppies but usually now when she asks for bubble guppies, it just means she wants to watch TV or a show on her ipad. which she is even better at now than she was before. apple whiz, right here. never would've guessed that 3 years ago.


toy cars – this is a relatively new obsession. mom started buying the little packs of hot wheels cars for caylin. they're super cheap and there are a million different ones, and she loves organizing them. so now we have like 20. she carries them around in an easter basket, which she also picked out at the drug store. she's a weird kid. anyway, lots of cars. "this is daddy's truck! this is a racecar! this is a firenengine!" and on and on :)

more barbies, less polly pockets – i'm kind of glad she's slowed down with the polly pockets. tiny dolls all over the place, like in the bed and on the floor to step on, was getting to be a pain. but now that we've dragged even more barbies out of storage, she's been playing with them non stop. we keep them in the guest room, and she just goes in there with a big box of them, sits on the bed, and organizes them. "this one is cute! this one has a pretty dress! this one has a bathing suit! this one has pretty hair! this one has glasses!" it is freaking precious. until she starts covering loki with them.

"no, i don't like that!" – this is a common phrase latey. she'll be halfway through her dinner when she decides that she no longer likes whatever it is that she's eating. we usually win the fight, after some arguing, but… such is life with a 2 year old. it's definitely better than a defiant, "NO!"

lots of friend time – we've been trying to hang out with shelby and madi as much as possible. with everyone's crazy work schedules, sometimes it's hard. but usually the weekends work out great. pool, toys, popsicles, tiny screaming voices. :)

"LET IT GO!" – we haven't actually sat and watched frozen in months, but caylin still sings the songs like it's her favorite thing ever. and by sing i mean scream at the top of her lungs. it sounds absolutely horrid, but it's hilarious. except when it's right in your face. you can actually feel the words hitting you in the eyes. this child is insane.

"make a circle?!" – i don't know why she likes being dizzy so much, but she's still obsessed. she makes brett spin her in circles just about every night. and when he's too dizzy to continue, she just stands in the middle of the room and runs in circles until she faceplants.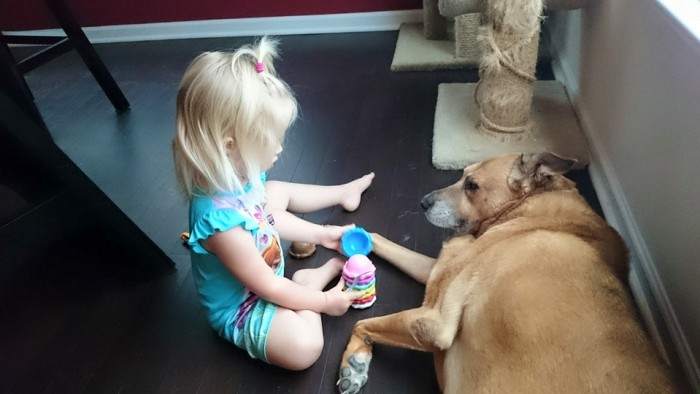 cooking games – i downloaded a bunch of new games on her ipad, getting sick of the same ones over and over. one of them is this strawberry shortcake cooking/baking game, and caylin picked up on it like immediately. it's actually a pretty sweet game, until you realize how much you end up paying in in-app purchases. these people must be making a killing.

bedtime has gotten a little calmer. a little. few books, lots of hugs and kisses, and she goes to sleep. usually. but it's a lot less back and forth than it used to be–we don't always have to have 17 beanie babies in the bed and 4 ponies. and we are reading different books, instead of the same 5. breaking the routine up a little bit :)

it's been a pretty awesome month. she talks so much now. about everything. what used to be broken sentences are pretty much solid. she sings and plays around the clock. she is such a happy little person, and i love listening to her tell me about her day.
i love seeing her face when i come home. i love everything about her. i wish i could just stay here for a while.