last week was my mom's birthday, and this past weekend, i took her to new york city for a night to see the jersey boys.
this was my 3rd NYC trip and 3rd jersey boys attendance in the last 6 months. i was smitten after brett and i went in december.
mom wanted to see jersey boys on broadway SO badly. she saw it off broadway years ago, but that just doesn't do it the justice it deserves. so a few months ago i bought the trip/tickets. if i didn't mention it after the last trip, a round trip ticket, direct flights, from charleston to NYC is as low as $150. not bad, eh?
this trip was basically the same plan as the last one–no luggage, fly in, go have fun, eat good food, shop, have drinks, go to the show, go bar hop. and that's exactly what we did. except this time we got a hotel since, A) my mom definitely can't pull an all nighter, and B) our return flight wasn't at 6am this time, it was at 2pm.
sleep was going to happen at some point.
trip in bullets…
saturday morning, 830, drove to airport.


mom and i sat around and people watched for about 25 minutes before boarding, bought a ginger ale and advil (knew i'd need those one day or the next). boarded around 9:30.


passed out for most of the flight. each flight i take makes me more nauseated than the last. i don't know if this is due to getting older or the mentality that nausea/dizziness is always equated with a hangover, and that alone makes me sick.


got to NYC, and a few minutes later we were in an uber, but not before switching 3 times. first uber was slow-ish, and another uber pulled up. said he could switch it for us. took my phone and he couldn't figure out how, accidentally switched me to some other guy. traffic guy yelled at us because we were blocking taxis so that uber disappeared. another uber pulled up, i thought it was ours. it was not, and the one that was still tracking me on my phone was like, WTF where are you going. anyway, WE GOT IT.


uber to max brenner, basically the most chocolatey amazing place i've ever seen in my life. chocolate tubes and vats of melted chocolate and candies everywhere and cake and chocolate syringes. chocolate pancakes, strawberries, fondue. cocoa dusted waffle fries. HEAVEN.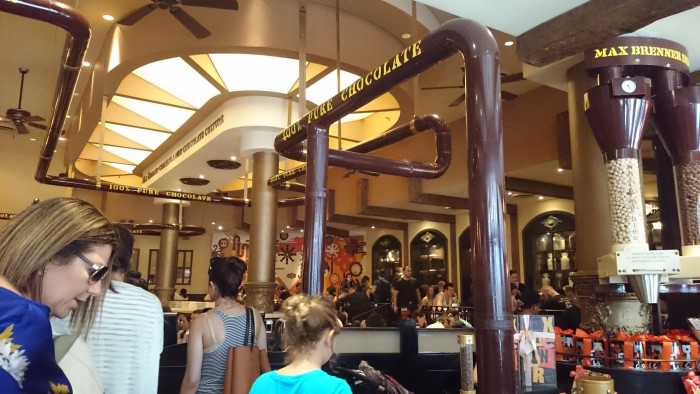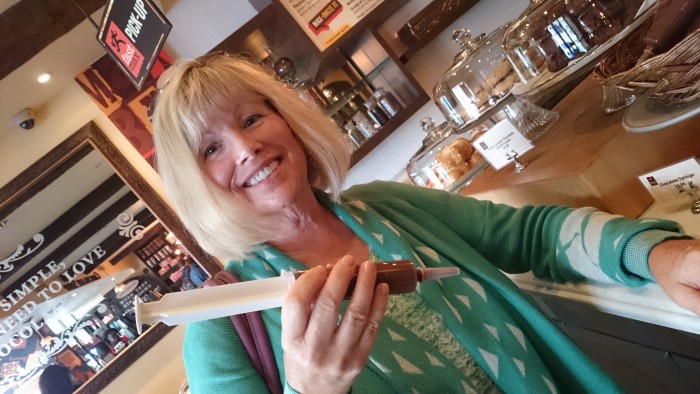 mom got awesome mac and cheese, and i got a burger. i'd been craving one all day and we were both starving.


finished eating, and no room for dessert. "settled for" free samples of praline covered pecans with cocoa powder (SO GOOD).



i set my google maps for the theater, and we just kind of meandered in that general direction all day.

strolled through the farmers market.


we heard music and saw crowds around madison square park–turns out the big apple BBQ block party was this weekend. awesome bluegrassy music, banjos, so many beer tents. tons and tons and tons of BBQ, which my mom refuses to eat (she's not right in the head). it smelled amazing, despite being full from lunch. there were more barbecue stands than i could count.




i got a goose island IPA and mom got a bud light.


stood around drinking beer and listened to the shook twins play–twin sisters from oregon, they were pretty badass.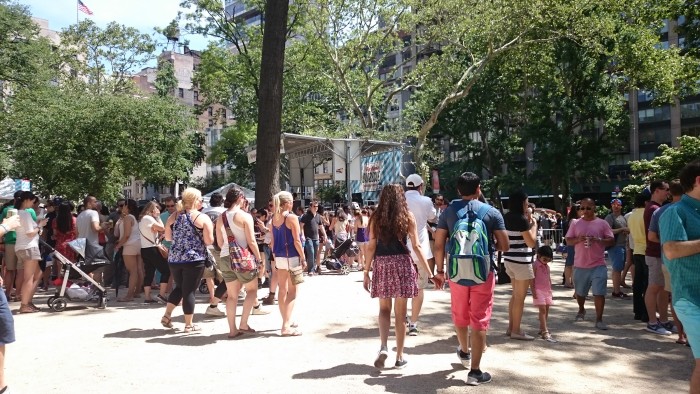 weather could not be more perfect for this–80s, no humidity, sunny, with a breeze. gorgeous.
SO many people laying around the park hanging out, just awesome.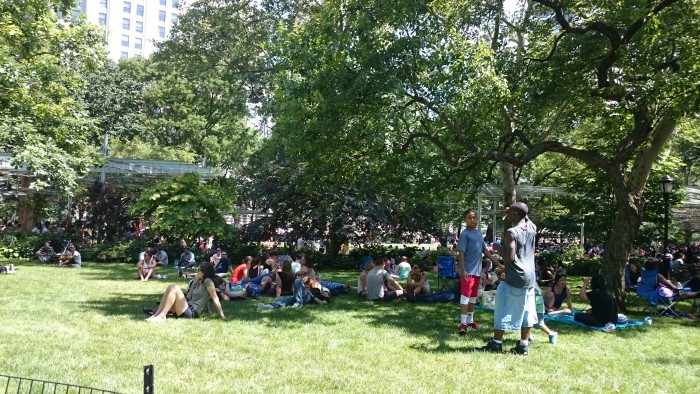 it was hot standing in the sun so we kept walking and ended up walking through the rest of the park and left.

walked past empire state building and up 5th avenue to all the shops.


mom wanted to go to macy's, but i think we went in a mall instead. nothing but all the fancy designer shops and overpriced crap neither of us could care less about, so we were out of there in less than 2 minutes. hellooo, H&M!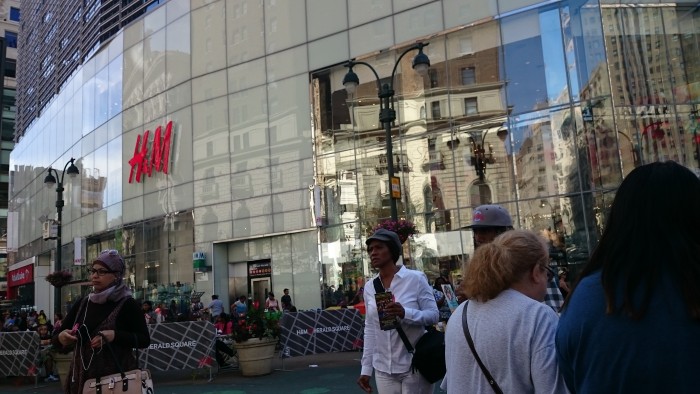 waited in line at H&M to try on clothes, and the line was like one you'd find at disney. so many people, but went fast. i bought a few tops and new shorts.

walked to hotel, since it was conveniently on the way.


stopped at drug store first, since i forgot my travel toothbrush and lotion. mom forgot toothpaste. on a roll!

checked into the new yorker and cleaned up a bit.


and tried on new clothes!


the first thing mom noticed when we got in was the toilet paper was like 4 feet away and across the bathroom from the toilet. it made no sense. room was tiny, but who cares. it was clean and comfy! the view was ridiculously high, since we were on the 33rd floor. my ears popped on the way up.


walked around some more to see where we should stop before the show. i knew i wanted to get drinks and some munchies, but neither of us was hungry for a meal since we'd only eaten 3 hours ago.

went to mchale's pub again–maybe this will become tradition? nachos and whiskeys. mom and i sat and talked for an hour or so before meandering to the theater. i really like that place.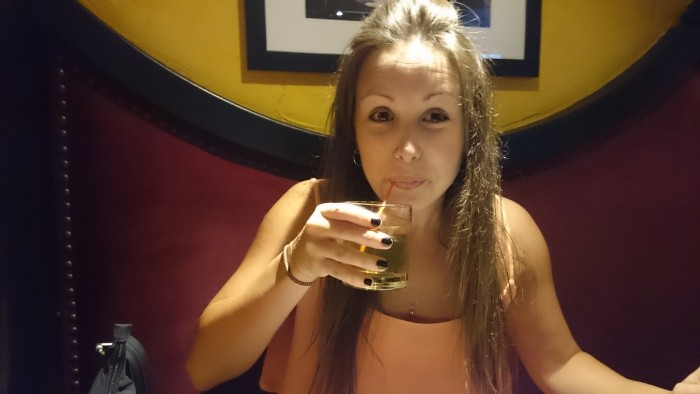 got to theater and got another drink. double whiskey for me, coke for mom. and i finally bought a jersey boys tshirt and shot glass. overpriced, but i can't not get swag when i go to crap like this. no willpower.

found our seats, 5th row this time! moving on up!


took selfies with mom, and i began furiously tweeting the cast about my ridiculous excitement. they might be sick of me.


the show started and i don't think i stopped smiling the whole time. the whiskey helped, yes, but i was more excited the 3rd time around than i was the first. so much happy!!!

guy next to me told me this was his 5th time, so i no longer felt any shame.

after the show, we waited outside the theater door again.


it was much warmer this time! like 50 degrees warmer! and they only took maybe half an hour to come out. autographs and pictures again. i'm losing my mind again.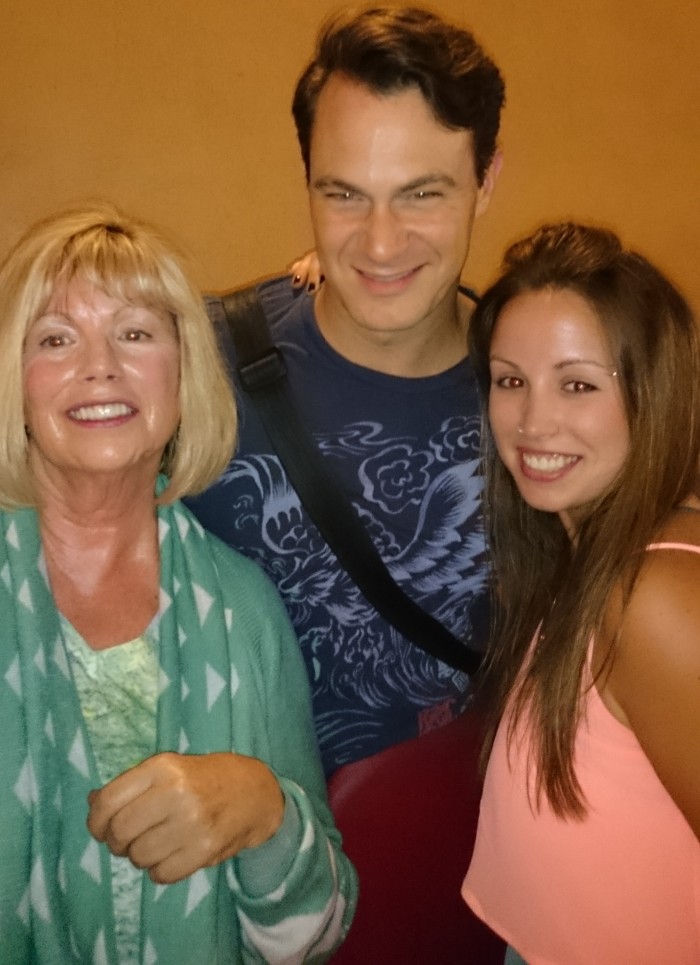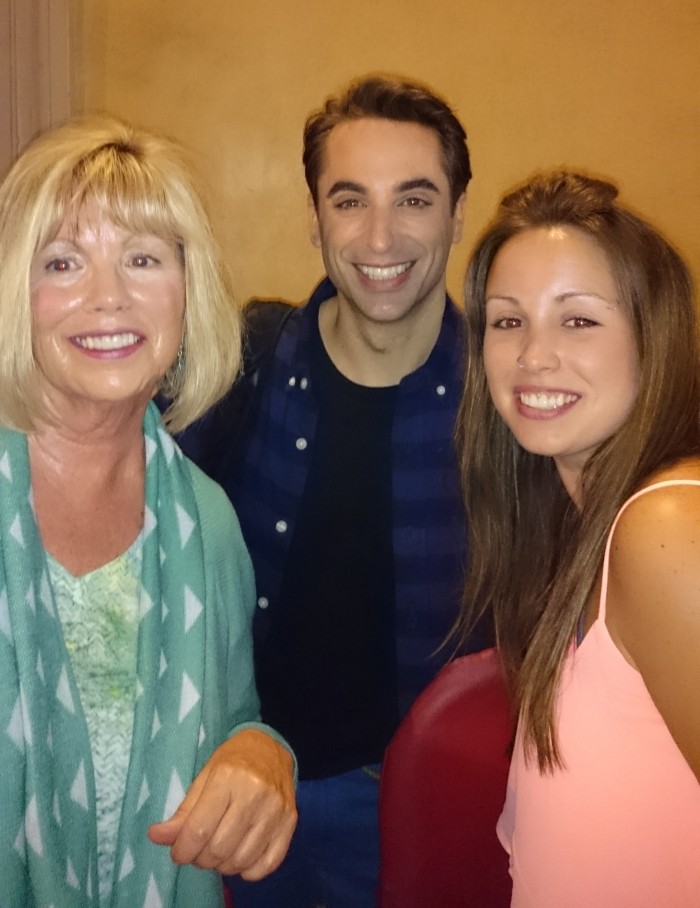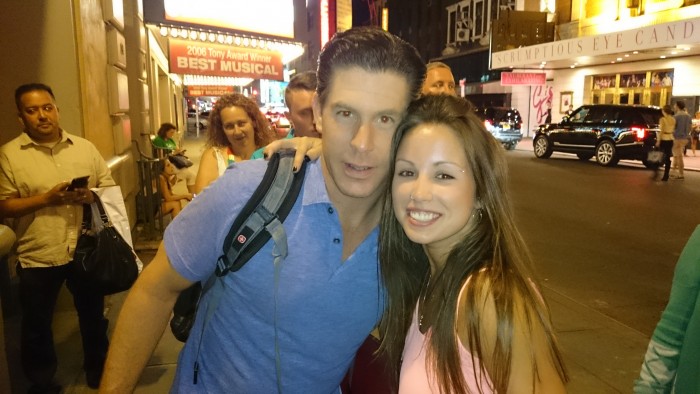 texted my friend matt, who lives/works in times square. he was at a bar called the mean fiddler, so that's where we headed.


i was trying to tweet and walk and walked right off the curb, man down. messed up my just-healed knee. bleeding. awesome.

this was probably 11:30-midnight ish. got to the bar, matt was with his mom and her friend, so the 5 of us hung out there for a while.

ridiculous dancing and karaoke carried on for almost an hour. neil diamond cover was epic.


started walking to the next bar–the iron bar.

mom walked the rest of the way back to the hotel (was less than a half mile, not too shabby).


i went with matt, and he introduced me to all of his bartender galpals. this was sometime after 1:30.

more drinks, more shots, too many drinks, too many shots. i completely forgot to keep drinking water this time. dangerously close to way too drunk, but not as bad as he was.

my phone was deader than dead at this point, and portable charger was now dead AND broken. i have no idea what time it was when i walked back to the hotel.

slept until 9, and woke up waiting for the hangover to hit.

mom was out adventuring so i washed my face, put on makeup, and went to find her. 2nd day clothes, for the win.

hangover hit.

stopped in a little shop so mom could buy caylin a little toy NYC taxi and NYPD police car. she still loves her cars.

feeling miserable, but the weather is absolutely beautiful and i am in new york city, dammit, so i am in a surprisingly good mood. despite puking in random fast food restaurants along the way. i was even having a decent hair day, which is hard to pull off after passing out on a hotel floor and not washing it. counting all the wins!

stopped and bought a new charger, and got some wendy's. the wendy's didn't last long, and the charger was $20 overpriced, but i'm still happy!

sat in the hotel lobby for half an hour so my phone could charge, and mom ate her muffin.

got an uber to the airport–i slept the whole way.

we had 2 hours before departure. jumped the gun a bit, but, more time to sleep.

mom got a waffle cone that looked amazing. vacation meals are the best meals.

got on the plane, and in less than 2 hours, we were back in charleston.
it was 24 hours i will never forget, for sure. mom and i had a great time. we hadn't been on a trip where it was just us in… a long time. much needed, i think. time to hang out and talk, goof off, eat junk food, and just be girls.
love you, mom! thank you for an amazing trip and even more amazing memories!