several months ago, brett and i were at home. usual routine–dinner, play with caylin, put caylin to bed, work out, shower, hang out downstairs in front of the computer and/or the TV, more often than not with some drinks, until one of us can no longer stay awake.
don't get me wrong–i am a creature of comfort and habit. all of the above is nothing but cozy and amazing.
but sometimes a vacation is necessary, even if it's a short one. we don't do a lot with just US anymore. it's always us and caylin, or us and family, or us and some other couples, or me and work friends. it's never just us.
i found some pretty cheap tickets to NY for a weekend, and bought us broadway tickets to see jersey boys. i've been dying to go to new york at christmas time for years, and i've been dying to see another broadway show for like… ever.
last friday, i left work early. brett and i boarded our planes, and by 7:30PM we were in NYC.
now, i would put all of this in paragraph form, but i've already written it down in notes. mostly for my own purposes–i didn't want to forget anything. so here it is. new york in notes and photos.
121214, friday

came home from work early, packed, drove to airport

flew out at 5PM

short flight, brett sits behind me, i sleep in and out listening to christmas music

get uber to hotel—mohammed (our driver) is a complete ass on the phone, we debate not even taking an uber, but… better than waiting for a cab

checked into hotel—room 381, down like 12 hallways and behind the pool… outside. in a weird little corridor with a wooden fence and views of skyscrapers

wash face and get dressed, i don't know how to dress for NYC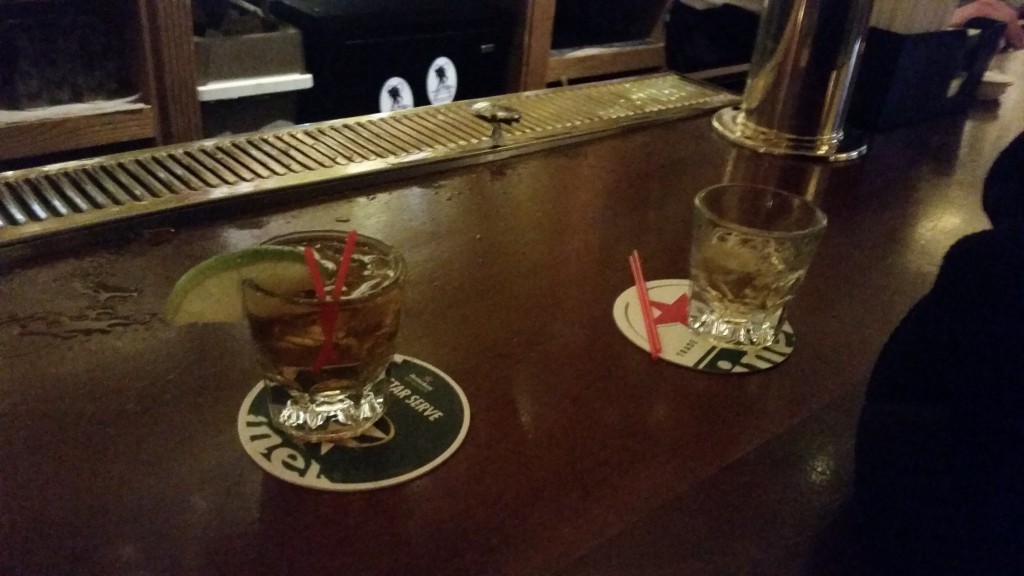 walked down the street to o'lunney's for a few dewars and jacks, awesome irish bar with 2 bars, leave and walk to…

the perfect pint – coffee and jack! need to wake up. starting to slow down. small place but it's really cute. rooftop bar but we never made it up there.


WIRED, being incredibly annoying. mostly on purpose.

wandering around times square-ish area

watched spray paint artist, phenomenal

it's amazing, frozen is playing everywhere

they have stormtrooper pajamas

there is not an ewok in sight #pissed

a lot of jack, a lot. and coffee. jack on the rocks and coffee will soon be our signature order this weekend.

brett tried to get a gyro, they gave us a burger? "how do you want it cooked?" "i've never been asked how i want my lamb before…" WTF

talked to bartender about how awesome SantaCon is… hilarious. he was not amused.

bought a sweet t-shirt

walked back to the hotel

didn't want to leave #stubborn, it's 3AM

STILL WIRED

our heat doesn't turn off in the room, fan is only option, it is hot as balls, ghetto propping our door open to get some ventilation

121314, saturday

woke up late #fail, no hangover #win

pedicab tour is at 11, we woke up at like 10:20. almost a mile away.

rush shower

the shower doesn't drain and the knobs don't work right

the cab passes radio city music hall and a very christmasy part of town, i'm freaking out (inside, because the outside is SO SLEEPY)

wait 10 minutes for pedicab guy, brett got us muffins and juice from the cafe next door

hour long pedicab ride—our "driver" was awesome. he looked like mario. super sweet, excellent tour of central park and even stopped to take pictures in front of the pond that shows belvedere castle, and again at the "friends" fountain


saw the plaza hotel, and the hotel that they used in spiderman

the house where lennon stayed

cold but sunny and brisk and beautiful

walked a LOT

carnegie hall

russian tea room

the buildings are so tall it's dizzying

unbelievably crowded

wish we had gone ice skating

dad called while we were there and i got shoved into a bush

strolling down madison avenue

we need food, went to "deli on madison"

this place is a dilemma for hungry people, too much to choose from

huge buffets of fresh fruit and salads and all kind of food and sandwiches and pastries

we're drooling

went on shopping tour for brett, he wanted a pea coat and some warmer clothes

no one carries his size

H&M, A&F, hollister, some other place i can't think of, ended at joseph a. banks for like an HOUR

sweet old man dresses him because we are clueless

guys working blatantly talking about me and pointing at me and making weird faces, and i'm uncomfortable for an hour, i don't know if it's good or bad or just awkward

walk to grand central station

metro to downtown — it's the worst smell we've ever smelled in our lives. learned never to get on an empty car, there's a reason it's empty

911 memorial

breathtaking

walk back to metro

walk to hotel

change/wash up

walked to hell's kitchen, 44 & X

caesar salad

crab fondue something or other (beyond delicious)

i got the best mac and cheese i've ever had

brett got the best steak and taters on the planet

bailed on dessert, too much

SantaCon still going strong

jamesons and coffee

this place is adorable

watched heisman trophy ceremony

ready to bar hop

kept walking toward times square area

police horses

tried to go to a random bar, stupid cover

almost went to strip club but it looked pretty sketchy

kept walking, marshall freaking tucker band is playing in a theater across the street, i freak out, walk in and he's got 30 minutes left, probably not worth $37/ticket at that point, so incredibly bummed out


more SantaCon, bartenders are awesome, they put on UFC for us

more coffee and whiskey

met up with andrew, long time internet buddy of like 13 years

he takes us to blarney rock pub

more jack

bouncer says my ID looks like someone told me i just got crabs

photos with said bouncers, they look like they could murder someone

leave and go to another bar – rattle and hum – http://www.rattlenhumbarnyc.com/

quesadillas and sammiches

argue with brett about it being too early to go home (it's past 2AM and i'm still ready to go exploring)

i don't want to go home yet

tried to get uber back to hotel, but they cancelled, got cab

the hotel is a sauna, yet again

pass OUT

121414, sunday

woke up at like 10:30

shower and miss breakfast

tried to go ellen's stardust diner for show, line was a mile long, we were hangry and didn't want to wait, another time

went to the playwright on 49th instead, fish and chips, calamari, chicken pot pie, mimosas, beers, bengals/browns game and johnny manziel's first start, perfect pregame


walked to august wilson theater

most amazing show i've ever seen, i'm in love, almost cried about 12 times, born in the wrong decade, i can't stop listening to the soundtrack

walk back to hotel, supposed to meet brendan and his g/f but never happened

clean up/wash up/change/pack suitcases because we know we'll be too drunk or lazy or rushed to do it later

walk to dinner

stopped at cute little shop beforehand

we knew we wanted pizza, so found best place on G+, don antonio

it's soooo crowded

salami and ricotta calzone for me, sausage and mushroom pizza for him

everyone in this city drinks wine but us

walk to the jolly monk after, brett wanted to watch the eagles/cowboys game—a buddy of mine recommended it on twitter AS we were walking by it, must be a sign, right?


too much coffee and beer and whiskey on top of mimosas and more whiskey and pizza, i feel like garbage, have hit the ultimate 3 day party wall

bartender is amazing, we all become BFFs, he wants to work for nascar, does video editing for ESPN, wants to live in charlotte, we swap facebooks

get an uber back to hotel after 3rd quarter, back in time for brett to see end of game, driver looks scary but is far better than mohammed and very friendly.

pass out by midnight, miserable sweaty and trying not to throw up

set like 7 alarms

121514, monday

woke up and mashed snooze 72 times before actually getting up at 5:10

i feel like death and have drank far less booze and drank far more water than the last 2 nights, beer hates me

didn't shower.

wash face and rush to get ready, glad we packed yesterday

uber to airport, driver is friendly, rates are 1.3x, freaking $85 to JFK airport, tried to sleep

traffic is god awful

security line is forever long, lost brett

we get to the gate with 15 minutes to spare

no breakfast because that's just not happening. had 1 bite of brett's poptart

slept entire flight awkwardly on brett's shoulder

wendy's before home