i have sarah to thank for all of this, but last week i signed up for a month of aerial dance/trapeze classes here in charleston. after seeing all her pictures/videos of it, i had to try.
i didn't actually know we had any classes locally, but i got lucky, and there are classes several times a week only about 10 miles from where i live. PERFECT! :D
so my first class was this evening and i fell in love with it. i called brett as soon as i left all excited, screaming into the phone. it's the perfect mix of gymnastics (kind of), working out, and playing on the monkey bars when i was 8 years old. if that makes any sense. i never really grew out of the phase where i loved to climb on shit as a kid, and this kind of fills that void.
i asked the instructor to take this picture and she was totally into the fact that i wanted to photograph this experience. really. apparently no one in her classes has done this? she was like "WOW you should put it on facebook and promote it!" and went on and on, so i'm going to ask her to take more pictures next time so i can see what i look like dangling around on a trapeze and ribbons. it feels amazing. minus the bruises.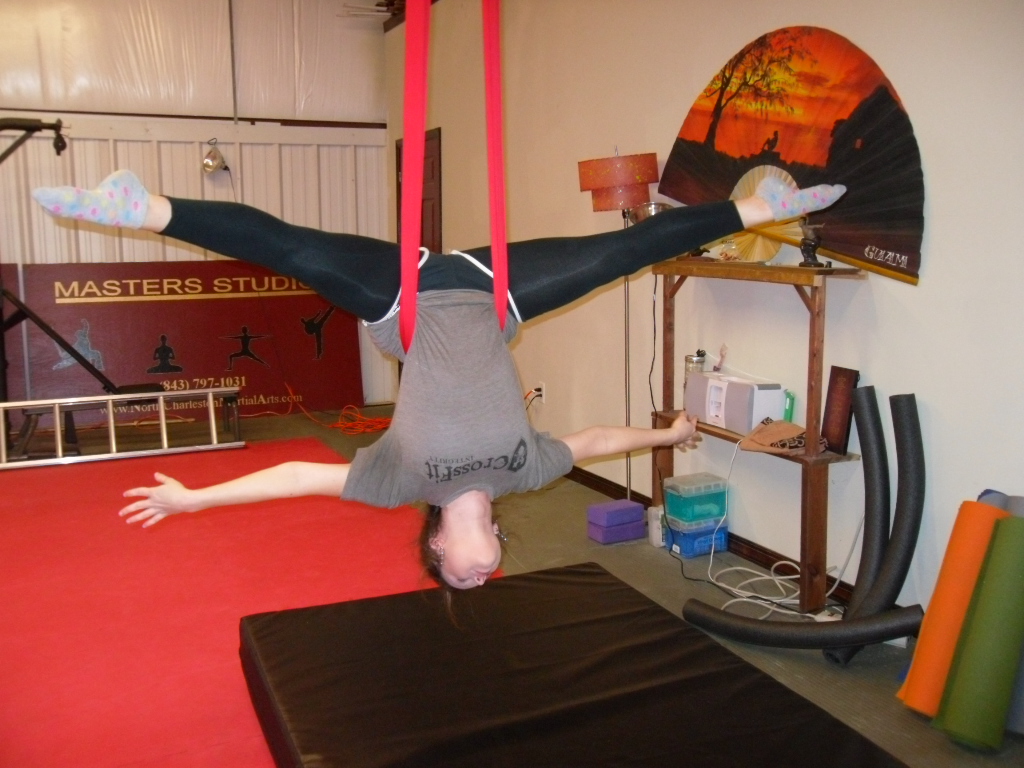 i won't say where i'm actually taking this class in the event that some creeper in charleston decides to show up and kill me. highly unlikely, however, if you're in the charleston area and would like to join us, please do. but e-mail me first. and then i will tell you.
it's worth the money, and it's not that pricey. around $20-$60 a class, depending on class size.
tomorrow is my next flight class. between this, welding, and flying, my mother and brett might have heart attacks in the near future worrying about my personal safety.