january flew by. i guess we just kept busy. i didn't even get a chance to take our christmas tree down until this week (yes, february). this past weekend we were in boone for our anniversary. the weekend before that, brett's parents were visiting. weekend before that was NYC. and before that was our potty training fiasco. whirlwind.
BUT.
OUR CHILD IS POTTY TRAINED. the last caylin post before this one was expressing how frustrating it was. but man. 4 days and we were pretty much done. having her out of diapers is even better than i ever imagined. zero wet beds, she's had 1 accident in weeks and that was when she saw her BFF (who she can hardly control her bowels around as it is), zero diapers, just… amazing.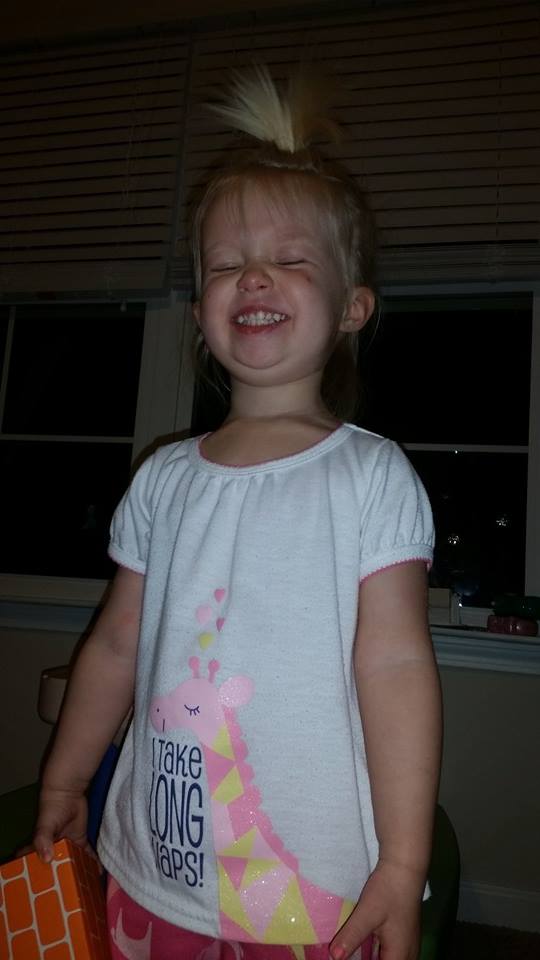 along with potty training, comes a new trick she's learned. she knows that if she yells, "I GOTTA PEE!" in the middle of the night, or even right after we put her to bed, that we have to get up and get her out of bed. even if it's just a trip to the bathroom, she wants to get out of bed. we can't really ignore her saying she has to pee, because sometimes she really does have to go. but when it's time to go to sleep and she's literally just put her head on the pillow, i've JUST shut the door, and she starts yelling, you KNOW she's up to something. and yet, we go to the bathroom. she talks about everything BUT peeing and she never actually pees. usually just sits there and rambles. "pretty hair, mommy! pretty shirt, mommy! look at my nails, mommy!" it's incredibly hard to be frustrated at such an adorable little human. i love it.

my dad and stepmom bought her a piggy bank for christmas, and i've had to hide it on occasion because she will dump ALL of my spare change out and try to cram it all in her new piggy bank. she'll even try to put keys and anything else she can fit in there. but she loves it. keeps her occupied for a solid 20 minutes. the only thing that scares me is her trying to carry stuff that heavy around loki. or her dropping it on her foot.



breakfast in bed is almost a daily routine since she's been getting up around 7 most days. bowl of cereal with bananas (sometimes i sneak in a few m&ms), cup of milk, and her ipad, while we try to get an extra 15 minutes of sleep. it never works. but she snuggles and it's amazing.


obsessed with shoulder rides with brett. every time he walks in the door, she wants to be on his shoulders. even if he's hot and sweaty from the gym. "DADDY SHOULDERS? REACH! DADDY SHOULDERS? OUTSIDE?" it's so cute, and hilarious, and tiring. because i am the backup in case brett doesn't want to or can't do it. she is SO HEAVY! but so fun.


since it's been "colder" here lately, she's been watching a lot of disney movies. she loves lilo & stitch now, and rio. i haven't watched frozen in like… weeks. which is a miracle. tinkerbelle was another new one she got hooked on for a little bit. doc mcstuffins is a new obsession.

also lots of play doh. and blocks. and coloring. and stickers. and "cooking" in her kitchen. and organizing her beanie babies.

she still won't give loki a break. always messing with loki when she gets the chance. i love that she is so affectionate but she nearly hurts her every time. and when she found out that jessie could ride bullseye in toy story, GAME ON. she tried to do the same with loki. every time i heard a tiny "YEEHAW!" i had to run to save loki from being saddled. she reads to her some mornings, which is adorable.



somewhere she picked up, "no, i don't like it" and says it about basically any food she doesn't want to eat at that particular time. even cookies, if she's in a grumpy mood. that will be a fun one. but, it's still not as bad as her yelling, "ALL DONE!" at every meal. that one makes me cringe.

she's still growing like a weed. i didn't see her for 2 days this weekend and i felt like she came back even bigger. it's scary. i was snuggling her after her bath tonight and looked in the mirror. her feet are past my thighs when i'm carrying her cheek to cheek. unbelievable.


she loves sticker books, and putting stickers everywhere still. we bought her a bunch of little presents while she was potty training, a few of which were stickers or sticker books with pictures. so we sit with her on the couch, she picks out which sticker she wants (we have to take it off because she can't get them off the paper that well yet), and then she tells us where to put it.




this child eats more cheese and crackers than anyone i've met in my life. still. and beans. she loves beans.

she likes to brush my hair, and pretend to put my hair up like i do hers. "hairs up, mommy!"
she is amazing. she is so grown up now. big girl bed. no diapers. puts her own shoes on. nails always painted. helps take in the groceries, and even sweeps and helps out with feeding the animals. so surreal. :( now i know why my mom always said she wished i would stop growing up. i hate it. i love it but i hate it. i just hope she turns out better than i did.
migrating away from the seriousness a bit, other than caylin being amazing…
brett and i went to see miranda lambert and justin moore at the coliseum a couple weeks ago. i think the kicker for me was the dixie chicks cover at the end. and "house that built me". either of those can easily get me. we parked at the outlet mall near the coliseum, scarfed up our wendys, and shuttle buses picked us all up, which was nice. bought a t-shirt and a few beers. our seats were up in the stands (not on the floor) so you can't really dance when you're on an incline like that squished in with other people. plus brett had to sit so he didn't block 3 rows of people behind him. but it was probably better that way, seeing as how we both had to get up for work in the morning.
i booked us tickets for merlefest in april, and carolina rebellion in may. i'm not skimping out on concerts this year like i have in years past. caylin is getting older and she can go to merlefest, so that will be a lot of fun i think. or i hope, rather. we'll see how it goes. :) worst case, to the playground! and there's plenty of food to distract her with. and ice cream.
the other night i went out on a limb and booked brett and i a trip to the LayerOne (L1) security conference in LA in may. i've been wanting to go for years now, since i met all my DEF CON buddies. they finally convinced me that it would be well worth the trip, so it's happening. it's actually happening. got a pretty good deal, and… i know it will be epic.
so here's to more adventures. and here's to slowing down the whole caylin-growing-up thing. please.